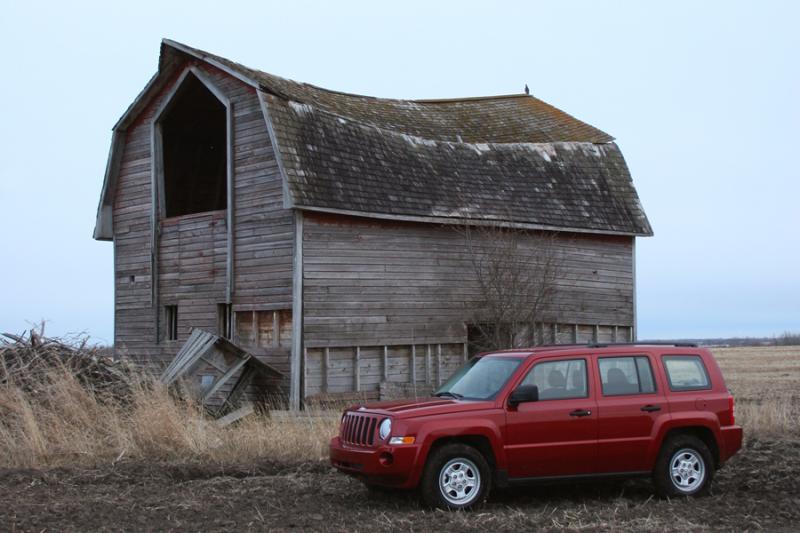 "Not Great, Not Terrible"⌗
Consumer Reports has a good review of this Jeep, and I can confirm its mediocrity. The cockpit does feel cramped and closed-in. I went for the model with manual transmission, so at least it felt like driving a real car. There's no way I'd buy a Patriot with automatic transmission: those felt like I was driving a sewing machine. Hard to believe transmission made the difference, but there you have it.
I always liked to think of the Jeep Patriot as more of a station wagon than a real Jeep. Of course, Chrysler would never market it that way.
Originally I was going to buy a Wrangler (or CJ, or TJ, or whatever you want to call it). But after a little soul-searching (how much off-roading am I going to be doing, really?), I realized I just needed a road vehicle. The Patriot fit the bill: a cheap, reliable road vehicle with a fair amount of covered cargo space in the back, manual transmission, with good fuel economy.
I bought this brand new for about $20,000 in 2009 and sold for about $1,500 in 2019. I noted the details of every fuel receipt, which I've preserved here.
Final Odometer Reading: 94,379 km
Total Spent on Gas: $8,362.68
Longest Journey on a Single Tank: 651 km
Average Miles per Gallon: 28.42
Average Price Paid per Litre: $1.07
| Date | Price | Litres | ¢/Litre | Kilometers Travelled |
| --- | --- | --- | --- | --- |
| 2009-04-26 | $30.18 | 38.013 | 79¢ | 428 km |
| 2009-04-25 | $36.28 | 42.732 | 84¢ | 560 km |
| 2009-04-25 | $3.12 | 3.935 | 79¢ | 40 km |
| 2009-04-28 | $6.69 | 8.425 | 79¢ | 99 km |
| 2009-04-20 | $10.01 | 12.612 | 79¢ | 158 km |
| 2009-04-22 | $7.79 | 9.811 | 79¢ | 118 km |
| 2009-04-24 | $10.72 | 13.505 | 79¢ | 113 km |
| 2009-05-02 | $15.51 | 19.533 | 79¢ | 232 km |
| 2009-05-03 | $9.84 | 12.392 | 79¢ | 129 km |
| 2009-05-10 | $14.14 | 16.204 | 86¢ | 169 km |
| 2009-05-12 | $4.04 | 4.633 | 86¢ | 47 km |
| 2009-05-16 | $10.01 | 11.688 | 86¢ | 118 km |
| 2009-05-17 | $26.55 | 30.205 | 87¢ | 399 km |
| 2009-05-17 | $14.97 | 15.534 | 96¢ | 209 km |
| 2009-05-18 | $23.01 | 26.741 | 86¢ | 292 km |
| 2009-05-18 | $34.95 | 39.314 | 88¢ | 530 km |
| 2009-05-17 | $9.64 | 10.723 | 89¢ | 132 km |
| 2009-05-18 | $18.06 | 18.257 | 98¢ | 256 km |
| 2009-05-17 | $14.76 | 16.418 | 89¢ | 222 km |
| 2009-05-22 | $25.08 | 27.047 | 95¢ | 343 km |
| 2009-05-23 | $27.63 | 29.898 | 92¢ | 369 km |
| 2009-06-01 | $12.32 | 13.033 | 92¢ | 137 km |
| 2009-06-06 | $25.45 | 27.539 | 92¢ | 327 km |
| 2009-06-09 | $13.66 | 14.788 | 92¢ | 156 km |
| 2009-06-21 | $20.02 | 21.665 | 92¢ | 246 km |
| 2009-06-25 | $13.06 | 14.133 | 92¢ | 161 km |
| 2009-06-28 | $27.63 | 28.222 | 97¢ | 333 km |
| 2009-06-27 | $27.03 | 27.882 | 97¢ | 320 km |
| 2009-06-28 | $19.34 | 20.927 | 92¢ | 288 km |
| 2009-07-01 | $15.72 | 17.013 | 92¢ | 215 km |
| 2009-07-05 | $18.42 | 19.939 | 92¢ | 241 km |
| 2009-07-11 | $25.56 | 27.657 | 92¢ | 363 km |
| 2009-07-12 | $3.12 | 3.372 | 92¢ | 40 km |
| 2009-07-12 | $21.85 | 22.549 | 96¢ | 246 km |
| 2009-07-12 | $12.73 | 13.782 | 92¢ | 165 km |
| 2009-07-12 | $9.53 | 9.836 | 96¢ | 135 km |
| 2009-07-13 | $27.12 | 27.007 | 97¢ | 396 km |
| 2009-07-13 | $22.02 | 24.632 | 89¢ | 315 km |
| 2009-07-14 | $5.47 | 6.291 | 86¢ | 75 km |
| 2009-07-15 | $1.02 | 1.382 | 86¢ | 7 km |
| 2009-07-17 | $11.07 | 13.781 | 84¢ | 183 km |
| 2009-07-19 | $34.05 | 40.636 | 84¢ | 534 km |
| 2009-07-24 | $19.01 | 21.998 | 86¢ | 316 km |
| 2009-07-25 | $32.22 | 37.286 | 86¢ | 509 km |
| 2009-07-29 | $16.87 | 19.871 | 84¢ | 241 km |
| 2009-07-31 | $10.88 | 12.812 | 84¢ | 166 km |
| 2009-08-02 | $22.12 | 23.428 | 94¢ | 316 km |
| 2009-08-03 | $26.98 | 31.048 | 86¢ | 426 km |
| 2009-08-01 | $24.26 | 25.559 | 94¢ | 314 km |
| 2009-08-03 | $11.36 | 13.038 | 84¢ | 181 km |
| 2009-08-02 | $19.86 | 20.927 | 94¢ | 289 km |
| 2009-08-07 | $20.66 | 22.483 | 91¢ | 278 km |
| 2009-08-09 | $14.32 | 15.587 | 91¢ | 211 km |
| 2009-08-21 | $14.64 | 15.935 | 91¢ | 188 km |
| 2009-08-23 | $24.76 | 26.945 | 91¢ | 354 km |
| 2009-08-23 | $18.46 | 19.005 | 96¢ | 281 km |
| 2009-08-22 | $26.93 | 27.505 | 97¢ | 314 km |
| 2009-08-26 | $17.59 | 19.141 | 91¢ | 251 km |
| 2009-08-29 | $21.37 | 23.766 | 89¢ | 299 km |
| 2009-08-30 | $6.49 | 7.214 | 89¢ | 107 km |
| 2009-09-02 | $40.01 | 37.964 | 105¢ | 551 km |
| 2009-09-01 | $22.06 | 22.536 | 97¢ | 297 km |
| 2009-09-02 | $33.99 | 31.499 | 107¢ | 394 km |
| 2009-09-07 | $28.28 | 26.566 | 105¢ | 356 km |
| 2009-09-07 | $36.44 | 37.222 | 97¢ | 509 km |
| 2009-09-07 | $16.71 | 15.344 | 108¢ | 211 km |
| 2009-09-03 | $16.05 | 19.605 | 84¢ | 306 km |
| 2009-09-06 | $19.43 | 22.323 | 87¢ | 298 km |
| 2009-09-08 | $21.94 | 24.409 | 89¢ | 319 km |
| 2009-09-25 | $25.09 | 30.511 | 84¢ | 370 km |
| 2009-09-25 | $17.84 | 21.011 | 84¢ | 265 km |
| 2009-10-17 | $9.14 | 11.294 | 80¢ | 128 km |
| 2009-10-18 | $9.90 | 11.388 | 86¢ | 137 km |
| 2009-10-19 | $27.06 | 33.451 | 80¢ | 398 km |
| 2009-10-25 | $19.77 | 21.870 | 90¢ | 258 km |
| 2009-11-01 | $8.41 | 9.304 | 90¢ | 93 km |
| 2009-11-06 | $10.30 | 11.393 | 90¢ | 133 km |
| 2009-11-15 | $22.82 | 25.814 | 88¢ | 294 km |
| 2009-11-15 | $30.49 | 35.291 | 86¢ | 436 km |
| 2009-11-22 | $15.27 | 17.676 | 86¢ | 182 km |
| 2009-12-02 | $12.91 | 15.299 | 84¢ | 180 km |
| 2009-12-13 | $15.89 | 19.288 | 82¢ | 136 km |
| 2009-12-16 | $18.13 | 22.006 | 82¢ | 208 km |
| 2009-12-17 | $24.51 | 27.572 | 88¢ | 297 km |
| 2009-12-18 | $18.69 | 17.649 | 105¢ | 209 km |
| 2009-12-18 | $22.66 | 23.263 | 97¢ | 312 km |
| 2009-12-18 | $22.18 | 22.894 | 96¢ | 259 km |
| 2009-12-21 | $27.86 | 26.306 | 105¢ | 307 km |
| 2009-12-23 | $24.06 | 23.153 | 103¢ | 285 km |
| 2009-12-25 | $13.80 | 13.282 | 103¢ | 158 km |
| 2009-12-27 | $10.54 | 10.148 | 103¢ | 122 km |
| 2009-12-28 | $22.20 | 31.400 | 70¢ | 361 km |
| 2010-01-01 | $43.86 | 42.627 | 102¢ | 489 km |
| 2010-01-01 | $5.60 | 5.472 | 102¢ | 91 km |
| 2010-01-01 | $19.67 | 18.578 | 105¢ | 224 km |
| 2010-01-01 | $20.65 | 23.493 | 87¢ | 291 km |
| 2010-01-02 | $40.79 | 46.404 | 87¢ | 479 km |
| 2010-01-09 | $20.78 | 23.239 | 89¢ | 250 km |
| 2010-01-10 | $17.79 | 19.894 | 89¢ | 225 km |
| 2010-02-07 | $26.26 | 30.214 | 86¢ | 335 km |
| 2010-02-20 | $34.32 | 40.182 | 85¢ | 452 km |
| 2010-03-06 | $34.84 | 38.967 | 89¢ | 453 km |
| 2010-03-13 | $31.66 | 35.409 | 89¢ | 457 km |
| 2010-03-20 | $12.16 | 13.830 | 87¢ | 165 km |
| 2010-04-03 | $40.00 | 43.766 | 91¢ | 565 km |
| 2010-04-07 | $25.17 | 27.536 | 91¢ | 361 km |
| 2010-04-11 | $27.44 | 30.023 | 91¢ | 377 km |
| 2010-04-27 | $24.58 | 27.494 | 89¢ | 332 km |
| 2010-05-01 | $20.54 | 21.533 | 95¢ | 227 km |
| 2010-05-28 | $20.79 | 24.065 | 86¢ | 318 km |
| 2010-06-24 | $19.67 | 21.764 | 90¢ | 280 km |
| 2010-06-24 | $18.88 | 20.882 | 90¢ | 269 km |
| 2010-07-11 | $14.72 | 16.839 | 87¢ | 232 km |
| 2010-08-21 | $24.51 | 28.365 | 86¢ | 365 km |
| 2010-08-29 | $9.77 | 11.438 | 85¢ | 131 km |
| 2010-08-30 | $29.26 | 31.837 | 91¢ | 401 km |
| 2010-08-30 | $35.18 | 33.920 | 103¢ | 533 km |
| 2010-08-31 | $14.51 | 13.902 | 104¢ | 213 km |
| 2010-09-02 | $44.53 | 44.721 | 99¢ | 498 km |
| 2010-09-05 | $30.63 | 35.958 | 85¢ | 472 km |
| 2010-09-07 | $28.11 | 25.344 | 110¢ | 318 km |
| 2010-09-08 | $46.20 | 45.121 | 102¢ | 505 km |
| 2010-09-09 | $39.84 | 42.880 | 92¢ | 635 km |
| 2010-09-10 | $30.00 | 32.820 | 91¢ | 378 km |
| 2010-09-12 | $19.05 | 20.844 | 91¢ | 251 km |
| 2010-10-03 | $12.36 | 14.470 | 85¢ | 189 km |
| 2010-10-23 | $19.83 | 22.434 | 88¢ | 254 km |
| 2010-10-24 | $36.03 | 37.566 | 95¢ | 464 km |
| 2010-10-24 | $22.59 | 24.058 | 93¢ | 329 km |
| 2010-10-25 | $35.22 | 36.347 | 96¢ | 515 km |
| 2010-10-29 | $31.10 | 35.185 | 88¢ | 388 km |
| 2010-12-13 | $27.88 | 30.341 | 91¢ | 309 km |
| 2011-01-04 | $31.81 | 32.331 | 98¢ | 311 km |
| 2011-01-14 | $27.25 | 28.123 | 96¢ | 263 km |
| 2011-01-24 | $30.00 | 30.026 | 99¢ | 261 km |
| 2011-01-31 | $26.74 | 26.771 | 99¢ | 237 km |
| 2011-02-14 | $28.32 | 28.639 | 98¢ | 295 km |
| 2011-02-18 | $11.37 | 11.329 | 100¢ | 88 km |
| 2011-09-23 | $36.06 | 34.048 | 105¢ | 310 km |
| 2012-08-13 | $27.75 | 24.147 | 114¢ | 210 km |
| 2012-08-14 | $35.21 | 30.119 | 116¢ | 324 km |
| 2012-08-15 | $8.39 | 6.997 | 119¢ | 173 km |
| 2012-08-21 | $36.84 | 30.473 | 120¢ | 388 km |
| 2012-08-21 | $31.94 | 26.639 | 119¢ | 359 km |
| 2012-08-22 | $12.66 | 10.216 | 123¢ | 171 km |
| 2012-08-24 | $29.39 | 24.309 | 120¢ | 340 km |
| 2012-08-24 | $22.57 | 17.926 | 125¢ | 246 km |
| 2012-08-26 | $40.92 | 40.050 | 102¢ | 546 km |
| 2012-08-26 | $13.77 | 13.514 | 101¢ | 182 km |
| 2012-08-26 | $22.18 | 23.519 | 94¢ | 297 km |
| 2012-08-27 | $13.44 | 14.029 | 95¢ | 209 km |
| 2012-08-27 | $20.54 | 21.857 | 93¢ | 289 km |
| 2012-08-27 | $9.35 | 9.789 | 95¢ | 140 km |
| 2012-08-28 | $29.72 | 28.466 | 104¢ | 418 km |
| 2012-08-29 | $20.54 | 21.270 | 96¢ | 300 km |
| 2012-08-29 | $38.62 | 39.978 | 96¢ | 484 km |
| 2012-08-30 | $41.87 | 41.382 | 101¢ | 450 km |
| 2012-09-03 | $36.74 | 33.232 | 110¢ | 387 km |
| 2012-09-04 | $30.09 | 24.090 | 124¢ | 309 km |
| 2012-09-06 | $46.39 | 35.436 | 130¢ | 472 km |
| 2012-09-15 | $35.88 | 29.435 | 121¢ | 365 km |
| 2012-10-13 | $42.44 | 31.230 | 135¢ | 359 km |
| 2012-12-01 | $21.75 | 17.599 | 123¢ | 189 km |
| 2012-12-08 | $19.13 | 19.060 | 100¢ | 200 km |
| 2013-01-05 | $25.35 | 21.501 | 117¢ | 271 km |
| 2013-01-19 | $31.21 | 27.929 | 111¢ | 312 km |
| 2013-02-02 | $40.15 | 32.149 | 124¢ | 373 km |
| 2013-03-06 | $56.24 | 40.781 | 137¢ | 441 km |
| 2013-03-10 | $31.64 | 22.780 | 138¢ | 290 km |
| 2013-03-19 | $32.87 | 23.874 | 137¢ | 267 km |
| 2013-03-29 | $34.47 | 29.227 | 117¢ | 308 km |
| 2013-03-30 | $28.90 | 23.518 | 122¢ | 280 km |
| 2013-04-10 | $35.43 | 36.162 | 97¢ | 397 km |
| 2013-04-12 | $55.81 | 54.816 | 101¢ | 651 km |
| 2013-04-12 | $36.41 | 38.864 | 93¢ | 483 km |
| 2013-04-25 | $25.50 | 27.849 | 91¢ | 298 km |
| 2013-05-03 | $45.17 | 33.734 | 133¢ | 415 km |
| 2013-05-11 | $38.97 | 26.176 | 148¢ | 306 km |
| 2013-05-30 | $42.80 | 29.888 | 143¢ | 309 km |
| 2013-06-03 | $40.00 | 28.675 | 139¢ | 373 km |
| 2013-06-08 | $28.10 | 20.146 | 139¢ | 241 km |
| 2013-06-14 | $43.04 | 30.983 | 138¢ | 371 km |
| 2013-06-22 | $34.55 | 33.451 | 103¢ | 423 km |
| 2013-06-29 | $33.91 | 23.762 | 142¢ | 267 km |
| 2013-07-06 | $33.75 | 23.098 | 146¢ | 313 km |
| 2013-08-08 | $30.01 | 21.148 | 141¢ | 245 km |
| 2013-08-17 | $36.90 | 36.976 | 99¢ | 397 km |
| 2013-08-19 | $20.01 | 14.302 | 139¢ | 193 km |
| 2013-08-28 | $37.52 | 37.120 | 101¢ | 414 km |
| 2013-09-02 | $27.83 | 28.300 | 98¢ | 377 km |
| 2013-09-10 | $32.28 | 23.307 | 138¢ | 255 km |
| 2013-09-15 | $20.00 | 14.548 | 137¢ | 198 km |
| 2013-09-25 | $26.41 | 19.638 | 134¢ | 218 km |
| 2013-10-04 | $20.82 | 22.254 | 93¢ | 231 km |
| 2013-10-06 | $35.69 | 34.818 | 102¢ | 424 km |
| 2013-10-06 | $30.20 | 32.585 | 92¢ | 439 km |
| 2013-10-12 | $35.14 | 26.845 | 130¢ | 331 km |
| 2013-10-24 | $30.02 | 23.286 | 128¢ | 248 km |
| 2013-11-03 | $41.24 | 32.269 | 127¢ | 344 km |
| 2013-11-09 | $43.55 | 34.080 | 127¢ | 418 km |
| 2013-11-14 | $37.39 | 29.119 | 128¢ | 349 km |
| 2013-11-16 | $31.60 | 24.703 | 127¢ | 306 km |
| 2013-12-08 | $31.57 | 33.126 | 95¢ | 362 km |
| 2014-01-17 | $28.72 | 26.634 | 107¢ | 292 km |
| 2014-01-19 | $32.20 | 38.835 | 82¢ | 452 km |
| 2014-01-19 | $40.05 | 37.419 | 107¢ | 441 km |
| 2014-03-21 | $40.14 | 34.591 | 116¢ | 367 km |
| 2014-03-22 | $43.94 | 39.308 | 111¢ | 476 km |
| 2014-03-23 | $46.84 | 41.094 | 113¢ | 527 km |
| 2014-04-06 | $32.17 | 22.575 | 142¢ | 252 km |
| 2014-04-17 | $17.55 | 12.029 | 145¢ | 130 km |
| 2014-04-26 | $17.87 | 12.247 | 145¢ | 145 km |
| 2014-05-11 | $21.79 | 14.932 | 145¢ | 150 km |
| 2014-06-08 | $50.83 | 36.863 | 137¢ | 383 km |
| 2014-06-29 | $40.03 | 27.820 | 143¢ | 316 km |
| 2014-07-05 | $35.28 | 24.017 | 146¢ | 293 km |
| 2014-07-09 | $32.38 | 21.891 | 147¢ | 232 km |
| 2014-07-17 | $38.41 | 27.457 | 139¢ | 320 km |
| 2014-08-02 | $41.18 | 30.530 | 134¢ | 333 km |
| 2014-08-03 | $14.87 | 11.273 | 131¢ | 155 km |
| 2014-08-28 | $24.05 | 20.441 | 117¢ | 190 km |
| 2014-09-01 | $24.42 | 22.130 | 110¢ | 289 km |
| 2014-10-05 | $40.00 | 30.101 | 132¢ | 346 km |
| 2014-11-23 | $22.00 | 20.691 | 106¢ | 256 km |
| 2015-01-20 | $19.29 | 19.310 | 99¢ | 217 km |
| 2015-02-14 | $8.45 | 11.360 | 74¢ | 118 km |
| 2015-03-15 | $20.01 | 16.691 | 119¢ | 165 km |
| 2015-04-04 | $17.00 | 14.420 | 117¢ | 163 km |
| 2015-05-16 | $18.00 | 23.360 | 77¢ | 223 km |
| 2015-06-11 | $22.00 | 17.199 | 127¢ | 190 km |
| 2015-07-24 | $26.17 | 20.785 | 125¢ | 226 km |
| 2015-07-25 | $35.02 | 27.380 | 127¢ | 294 km |
| 2015-07-25 | $29.28 | 23.628 | 123¢ | 330 km |
| 2015-07-26 | $22.08 | 19.052 | 115¢ | 243 km |
| 2015-08-02 | $27.00 | 22.333 | 120¢ | 309 km |
| 2015-08-03 | $37.27 | 29.840 | 124¢ | 444 km |
| 2015-08-03 | $31.93 | 25.567 | 124¢ | 277 km |
| 2015-09-19 | $16.83 | 20.649 | 81¢ | 239 km |
| 2015-09-19 | $19.65 | 24.219 | 81¢ | 307 km |
| 2015-11-07 | $29.37 | 33.448 | 87¢ | 394 km |
| 2015-11-07 | $11.08 | 13.499 | 82¢ | 193 km |
| 2015-11-29 | $14.35 | 18.927 | 75¢ | 196 km |
| 2016-04-16 | $17.83 | 24.851 | 71¢ | 259 km |
| 2016-07-30 | $18.76 | 16.052 | 116¢ | 166 km |
| 2016-07-31 | $16.06 | 14.353 | 111¢ | 166 km |
| 2016-08-19 | $15.36 | 18.844 | 81¢ | 205 km |
| 2016-10-01 | $18.16 | 20.695 | 87¢ | 195 km |
| 2016-12-22 | $34.34 | 32.369 | 106¢ | 297 km |
| 2016-12-22 | $16.75 | 15.785 | 106¢ | 212 km |
| 2016-12-23 | $32.28 | 35.189 | 91¢ | 413 km |
| 2016-12-23 | $13.20 | 14.627 | 90¢ | 168 km |
| 2016-12-23 | $9.00 | 9.842 | 91¢ | 143 km |
| 2016-12-24 | $31.40 | 32.808 | 95¢ | 426 km |
| 2016-12-25 | $12.51 | 14.067 | 88¢ | 175 km |
| 2016-12-26 | $30.28 | 30.416 | 99¢ | 327 km |
| 2016-12-26 | $23.31 | 28.951 | 80¢ | 369 km |
| 2016-12-27 | $12.93 | 10.455 | 123¢ | 127 km |
| 2016-12-27 | $17.93 | 14.506 | 123¢ | 205 km |
| 2016-12-28 | $30.84 | 24.844 | 124¢ | 299 km |
| 2016-12-29 | $14.83 | 17.057 | 86¢ | 199 km |
| 2017-01-02 | $17.28 | 19.453 | 88¢ | 216 km |
| 2017-01-03 | $31.46 | 32.214 | 97¢ | 360 km |
| 2017-01-04 | $30.58 | 32.407 | 94¢ | 393 km |
| 2017-01-05 | $21.04 | 22.849 | 92¢ | 272 km |
| 2017-01-05 | $33.23 | 34.148 | 97¢ | 356 km |
| 2017-01-05 | $13.72 | 16.266 | 84¢ | 204 km |
| 2017-01-06 | $13.05 | 14.661 | 89¢ | 219 km |
| 2017-01-06 | $41.01 | 39.372 | 104¢ | 483 km |
| 2017-04-30 | $26.19 | 20.378 | 128¢ | 188 km |
| 2017-06-22 | $36.50 | 32.042 | 113¢ | 412 km |
| 2017-06-22 | $25.83 | 23.608 | 109¢ | 302 km |
| 2017-06-23 | $22.81 | 19.022 | 119¢ | 232 km |
| 2017-06-24 | $17.39 | 16.901 | 102¢ | 228 km |
| 2017-06-27 | $34.65 | 28.426 | 121¢ | 385 km |
| 2017-06-27 | $27.33 | 25.209 | 108¢ | 339 km |
| 2017-08-07 | $49.44 | 36.377 | 135¢ | 411 km |
| 2017-08-12 | $16.23 | 19.128 | 84¢ | 215 km |
| 2017-09-24 | $20.17 | 22.686 | 88¢ | 240 km |
| 2017-12-29 | $24.80 | 18.250 | 135¢ | 154 km |
| 2018-02-03 | $37.44 | 26.763 | 139¢ | 252 km |
| 2018-06-13 | $42.96 | 37.994 | 113¢ | 365 km |
| 2018-06-22 | $52.87 | 38.617 | 136¢ | 423 km |
| 2018-06-24 | $46.17 | 35.003 | 131¢ | 463 km |
| 2018-06-25 | $32.17 | 22.052 | 145¢ | 348 km |
| 2018-06-25 | $41.89 | 31.287 | 133¢ | 401 km |
| 2018-07-21 | $41.77 | 27.320 | 152¢ | 304 km |
| 2018-07-21 | $45.26 | 31.023 | 145¢ | 394 km |
| 2018-07-21 | $37.39 | 27.513 | 135¢ | 341 km |
| 2018-07-22 | $40.24 | 28.150 | 142¢ | 357 km |
| 2018-08-05 | $36.48 | 25.000 | 145¢ | 290 km |
| 2018-08-25 | $38.50 | 37.449 | 102¢ | 394 km |
| 2018-09-01 | $22.74 | 15.482 | 146¢ | 184 km |
| 2018-09-03 | $26.40 | 17.852 | 147¢ | 263 km |
| 2018-09-04 | $55.48 | 37.014 | 149¢ | 506 km |
| 2018-09-06 | $58.47 | 41.207 | 141¢ | 514 km |
| 2018-09-07 | $34.29 | 27.021 | 126¢ | 368 km |
| 2018-09-07 | $45.92 | 31.911 | 143¢ | 438 km |
| 2019-06-04 | $17.10 | 10.897 | 156¢ | 106 km |
| 2019-06-28 | $33.93 | 22.334 | 151¢ | 198 km |
| 2019-07-18 | $26.23 | 19.890 | 131¢ | 243 km |
| 2019-07-29 | $32.61 | 22.970 | 141¢ | 281 km |
| 2019-08-26 | $40.30 | 31.267 | 128¢ | 317 km |
| 2019-08-27 | $31.34 | 26.141 | 119¢ | 320 km |
| 2019-08-27 | $29.04 | 21.215 | 136¢ | 312 km |
| 2019-08-28 | $24.82 | 20.925 | 118¢ | 321 km |
| 2019-08-29 | $28.60 | 24.117 | 118¢ | 290 km |
| 2019-08-30 | $23.11 | 18.880 | 122¢ | 298 km |
| 2019-08-31 | $27.72 | 24.125 | 114¢ | 363 km |
| 2019-08-31 | $14.33 | 12.690 | 112¢ | 202 km |
| 2019-09-02 | $16.84 | 17.381 | 96¢ | 194 km |
| 2019-09-03 | $16.56 | 16.247 | 101¢ | 230 km |
| 2019-09-04 | $9.16 | 8.987 | 101¢ | 118 km |
| 2019-09-04 | $26.90 | 20.707 | 129¢ | 317 km |
| 2019-09-05 | $35.17 | 26.467 | 132¢ | 376 km |
| 2019-09-06 | $19.97 | 15.370 | 129¢ | 213 km |
| 2019-09-06 | $29.30 | 22.911 | 127¢ | 318 km |
| 2019-10-26 | $41.25 | 36.427 | 113¢ | 418 km |
| 2019-12-04 | $51.20 | 39.417 | 129¢ | 434 km |
| 2019-12-15 | $41.58 | 30.822 | 134¢ | 366 km |
| 2019-12-30 | $36.70 | 26.422 | 138¢ | 320 km |